Full Package $200 ****NEW POINTS SYSTEM IN FORUM.... TRADE IN POINTS FOR PRODUCTS, ETC..Details To Come****
Check out the details in our forum at: http://www.scripts4he.com/forum
2 sit n go profiles, 2 mtt profiles, and 2 cash (ring) profiles only $200All in text format which means you are not restricted to 1 computer like some of the other profiles sold hereThis also means that you can modify it the way you like it to play!!  Even though these rock right out of the boxWorks On All Sites (FT/UB/Site X/Bodog/BetnGo/Red Star/Carbon)
[color=#000000]
To Purchase Click Here:  
[color=#990000]
Lambert: "Hey Webber Just wanted to let you know I ordered your profiles on Tuesday so far Simplestrat I had 2 1st and 2 3rd pl finishes itm in 2 90pl Sng ko tournament with Aggko but the best is a 1st pl in a $24 45pl sng with MTTProject . I would recommend your profiles to anyone on the fence  Thanks again"

Lambert: "Hey Webber still going strong with your profiles a few days ago  took 1st pl $144 in a 90pl $6 KO tourn then  2nd pl $175.50  $12   90pl KO  tourn with EvelynNg  Simplestrat  2  1st pl   6  2nd pl and  7   3rd pl finishes in $20 $10 and $5 SNGs  Do you plan on one day releasing your Daniel Negreanu profile again? THANKS AGAIN"

Blade:  "Great success when start testing SNG Simplestrat profile at 2$ turbo x
5 x 1 place
3 x 2 place
5 x 3 place
2 x 4 place
6 x OTM
I know it is a little sample but the play is wonderful.
And I just wanted to say thanks to Webber for the great support and effort!"

BattleCattle: "I have a larger sample size  
Though this is at UB so rake is .4 instead of .25 so that helps rakeback a tiny margin but hurts overall profits.

Games: 175
1st: 24
2nd: 31
3rd: 27
OTM: 93

ITM: 47%
ROI: 14%
Rakeback: $21
Profit: $81.6"

Royal: "I normally don't post on Holdem threads, however this one is deserving of a post.
Sometime over the last three weeks (I left it this long to protect my username) using the MTT Project profile I scored a first place in the daily dollar! That's right, top spot!
Well done, if it can place first in that donkfest - hats off to you Web.
Royal."

PubCrawler: "Congratulations XZXXXXXXXXXXX,
Out of 405 players in Tournament 999999999 ($1,500 GUARANTEED! - R&A), you came in 13th and have won $39.xx.
You've also been awarded 0.7 FPP for participating in the tournament.
Best wishes,
The X Poker Team

The funny thing about this tournament is that I set it up, went to bed, 2 hours later when going to work i realized my PC was doing scheduled maintenance and rebooted.. I relog on and see I still have 2300 chips left with the blinds 400/800..There are 150 people left still as well.. needless to say I pushed all in manualy, tripled up, and left for work.. 2 hours after I got this email.. thanks MTTPROJECT!"

kleanthes: congratulation to your new webMTT profile, its great ...
it has made several final tables already and won over $300 !!
you are genius man... this profile alone is worth the money, thank you so much...

lambert32: Still going strong with WebMTT another final table 3rd pl  $ 20 mtt
I have the latest version of WebMTT.  Thanks   P. S. On a good note I took 2nd in a $15 mtt last night.

72suited: "Just had a result with the mtt project code 3rd in a 1$ tourney with 1200 odd entrants 133$ return not a bad investment"
Here are some screenshots of graphs and spreadsheets from some of these profiles:NewWebberCash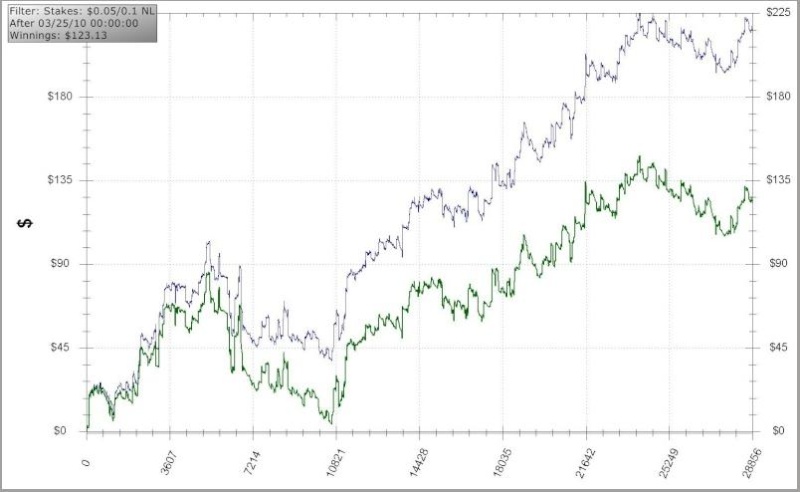 Simplestrat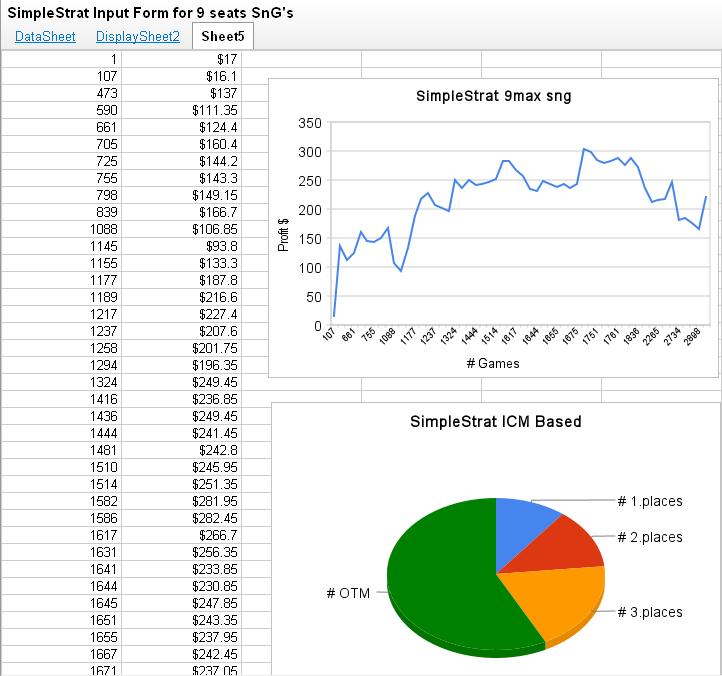 MTTProject
NewSitnGo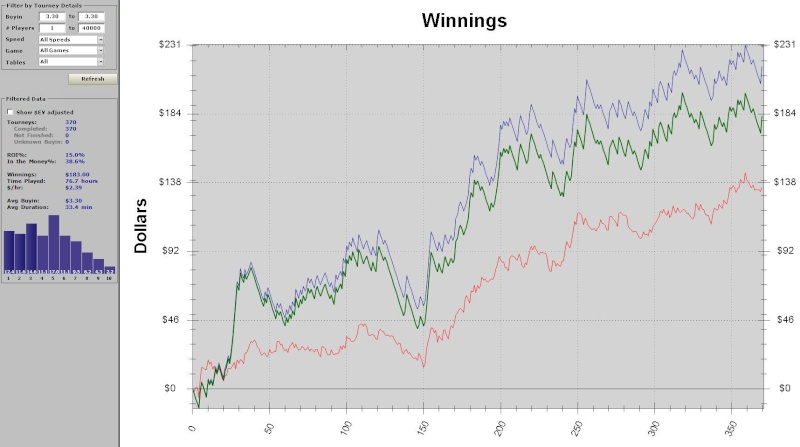 ****NEW POINTS SYSTEM IN FORUM.... TRADE IN POINTS FOR PRODUCTS, ETC..Details To Come****
SNG profiles - $100 for all 5
1. Simplestrat(Web1TableSng)
- 9/10 man NL Non Turbo STT ($2, $5, $10) Profile Description: Simplestrat plays a very successful TAG strategy.  In the early stages of the tourney, this profile will only play premium hands to avoid getting involved in multi way pots.  This enables, on average, 2-3 donkeys to be eliminated (sometimes more).    In the middle stages it will start to loosen up and steal in prime spots.  Post Flop it will play very aggressive but only C-bet on the right boards.  Not much slow play but very aggressive.  On the bubble it plays exceptionally well as the ITM% shows in the graphs.  Once ITM it plays hyper aggressive poker to take either 1st or 3rd.
2. NewSitngo(Web1TableTurboSng
- 9/10 man NL Turbo STT ($2, $3, $6) Profile Description: NewSitngo plays a very successful turbo strategy.  In the early stages of the tourney, this profile will play premium hands, and see cheap flops with suited connectors, any ace or king suited, and any pair.  It either looks to get into a multiway cheap pot with the speculative hands, or get heads up with the premium hands.  This enables NewSitnGo to double up when flopping big!!  In the middle stages it will start to loosen up and steal in prime spots.  Post Flop it will play very aggressive but only C-bet on the right boards.  Slow plays when the best situations present themselves.  Once blinds increase it becomes push/fold time.  This profile pushes in only +EV situations getting into the money more and making a higher ROI.  Heads up play is incredible!!
MTT profiles - $100 for all 12
1. MTTProject (a.k.a. WebMtt)
- any mtt any stakesProfile Description: WebMtt is a profile that plays extremely smart post flop.  This profile makes very intelligent bluffs, steals pots and blinds with high percentages, plays implied odds and set mines in the early stages and tends to steal pots and make good calls when opponents are allin based on their stacksize, you're stacksize, and their range of pushing hands.  It also pushes using the same information making the profile in the lead on most showdowns.  This is an excellent profile which a member took 1st in the FT Daily Double, and has recorded many other very successful prizes.2. Hellmuth
- (Based on Phil Hellmuth's 15 hands Strategy) large field mtts ($10 and below)Profile Description: This profile is based off of Phil Hellmuth's book "Play Poker Like the Pros".  This profile uses his Preflop 15 starting hand strategy in the early rounds and then adds his "extra" hands later on.
CASH profiles - $100 for all 6
1. NewWebberCash
- 9 man ring 10NL, 5NL, 2NL2. WebberCash
- 9 man ring 10NL, 5NL, 2NLEach package sold separately for $100 each or $200 for all 3 packages.You can check out all the profiles and what they are used for on our website
along with payment information.For details,  visit our website at: http://www.scripts4he.com You will also get full access to our forum. (scripts4he.com/forum)
You will also get free updates and new profiles i choose to place in the package. In the forum u will find spreadsheets with results of games played, graphs and other valuable information.
I currently have a busy community of over 1500 members in the forum.

Please feel free to pm me here if u have any questions
or email me at: taraperry.2180@yahoo.com

webber04




Posts

: 24


Join date

: 2011-01-20




---
Permissions in this forum:
You
cannot
reply to topics in this forum